₨1,750.00
SPECIAL NANKHATAI
SPECIAL NAN KHATAI ALMOND
₨1,750.00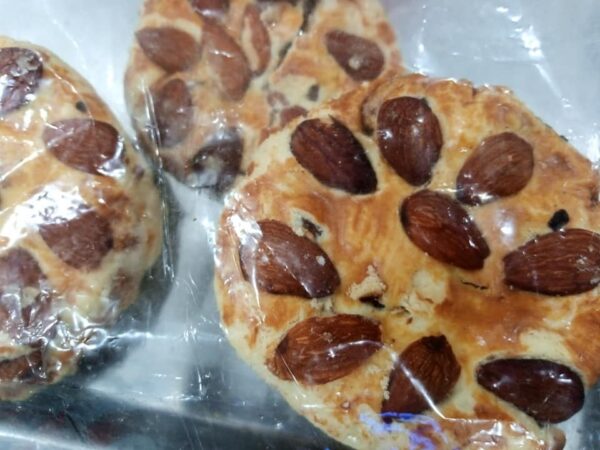 Almond nan khatai is the most popular product of Khalifa bakers in Lahore Pakistan. Special nan khati almond is eggless shortbread biscuits made with sugar, ghee, cardamom powder, flour. There are so many variations of almond nan khatais and can be made with different combinations of flour. This delicious nan khati biscuit from Khalifa bakers will surely be a great snack at your tea meal!
The texture of the nan khati biscuit is similar to shortbread with a buttery melt in the mouth topped with roasted almonds. The Kahlifa ki Khatai is its famous name in the whole country due to its original delight.  Moreover, this khatam is light, sweet to eat and its taste is entirely different as compared to the other brands.
special nan khatai almond is the perfect complement to evening tea too. You should offer these mouthwatering Naankhatais to your loved ones in family gatherings, parties, etc. Baking powder and baking soda have not been used in this recipe as well as it is simple to prepare. I hope you took them once and will come back again and again.
Khalifa bakers have been entered the market and are well known in the world of food and baking because of their unique item Khalifa almond Nan Khataai since 1925 in Lahore. Our online delivery service is available for you 24/7 and we are also taking online orders. Khalifa baker's Naankhatai delivery is better in every bite as it provides Cheap & Affordable online delivery. This bakery is operating in Lahore Pakistan.  We hope you will enjoy our services and also give us opinions for more betterment.
IT IS EXTRA LARGE IN SIZE (50 GRAMS) AND USE EXTRA ALMOND INSTEAD OF REGULAR ALMOND NAN KHATAI.
Place Your Order. Call Now +92 306 0420291